BACK-END SOFTWARE DEVELOPMENT SERVICES TO SCALE ALONGSIDE YOUR GROWING BUSINESS NEEDS.
BACK-END DEVELOPMENT SERVICES WE DELIVER
TECHNOLOGIES THAT WE USE FOR BACK-END DEVELOPMENT
WE COVER A WIDE MARKETING TECHNOLOGY DEVELOPMENT STACK
TELL US ABOUT YOUR PROJECT!
Back-end software development services
to scale alongside your growing business needs.
Back-end Development Services
We Deliver
Back-end API management
We work with APIs in scalable and secure environments, both in the cloud and on-premises.
Data storage back-end application
We are developing an ideal server application that can store data and scale when hosted on cloud computing services.
Сustom server solutions
We provide custom back-end development services for businesses of any scale. Get custom server solutions whether you have a straightforward or more complex & innovative web application that stores and manages data from multiple sources.
Back-end development services for enterprises
We create sophisticated electronic design automation workflows, middle tiers, SOAP web services using frameworks to provide enterprise business solutions.
Back-end CRM development
Get a complete CRM platform that fully meets your requirements with our development services and implementation support.
Back-end app development services
Using back-end programming services, we can easily add a robust cloud database, tracking analytics, and push notifications to your mobile apps.
Migration to cloud
Have an outdated system or want to reduce system maintenance costs? We help migrate server systems to public, private, and hybrid clouds according to your business needs.
Ouzo Games
Ouzo Games helps mobile game publishers find profitable games effectively using AI.
The platform offers a self-serve solution for developers by automating the sorting process. Integrated into the publisher's business process, the platform allows them to find games more accurately, quickly, and with way less investment.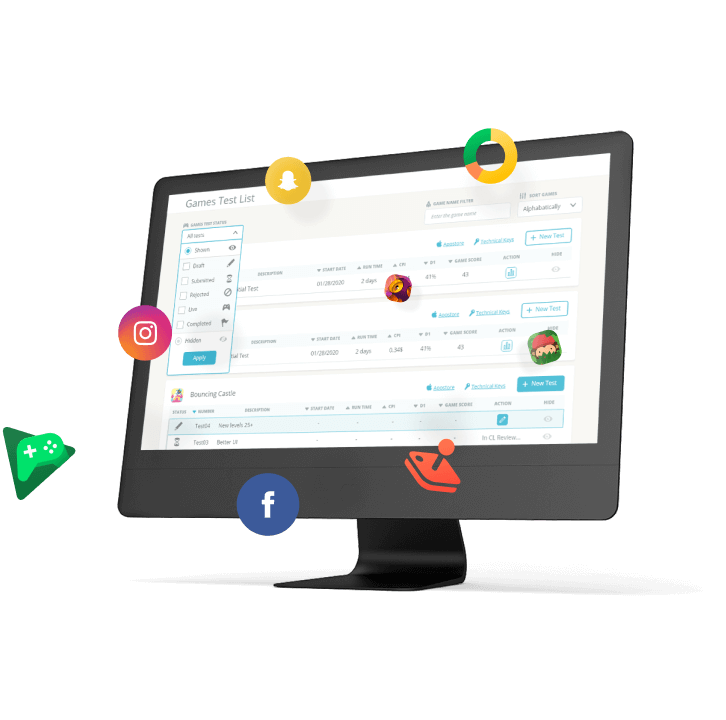 Review and verify
Watch and change details of your tests
Upload ad creatives
Make new creatives
Follow tips regarding formats and sizes
WTT-Solutions offered startup back-end development services to solve the original problem of the customer
Industries we serve
Marketing Agencies
Edtech
Real Estate
Travel and hospitality
Retail and eCommerce
Technologies that We Use for Back-end Development
Node.Js
.NET
Docker
Python
Mongo DB
Scala
Perl
MySQL
Ruby
Why choose us?
We design, invent, develop, share your burden on your path to leadership. We understand the development of websites, applications, portals, products, and more that complement your enterprise.
Flexible approach
Our agile design ensures on-time delivery to our customers, higher product quality, and lower overall risks.
Scalability and reliability
We always make sure that your development team is ideally suited to your project's needs and requirements.
Fast availability
We promise the fast availability of suitable candidates for your web or mobile application project.
Clear communication
Work with backend programmers who speak, read, and write English fluently.
Excellent results
Our back-end developers have solid experience and a good reputation. See for yourself on our case studies page.
We Cover a Wide Marketing Technology Development Stack
INDUSTRY RECOGNITION
Tell us about your project!